Recipe: Tacos, Street Chicken w/ Pickled Red Onions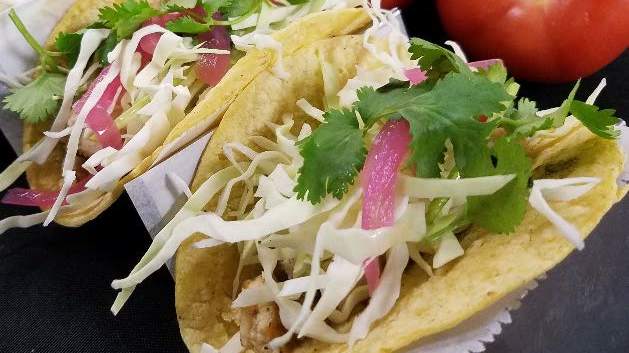 Recipe: Tacos, Street Chicken w/ Pickled Red Onions (HAC)
Yield: 1 Portion (2 Tacos)
| Ingredients: | Qty/UOM: |
| --- | --- |
| Tortilla, Corn, 6in | 2 ea. |
| Chicken Meat, Strips (Low Sodium), (USF#3680942) | 3 oz. |
| Salsa, Green Chili Tomatillo | 2 oz. |
| Cabbage, Green, Shredded | 1 oz. |
| Pickled Red Onions- see recipe | 1 oz. |
| Cilantro, fresh, whole leaves (about 4-6 leaves) | .15 oz. |
Instructions:
Cook the chicken on griddle, TurboChef oven or microwave, or reach the internal temperature of 15F° and hold for 30 seconds.
Pre-Heat corn tortilla on grill, griddle, TurboChef oven or microwave, make then warm.
Build the tacos in the following order on the two tortillas splitting the ingredients in half in each taco; chicken, salsa, cabbage, pickled onions, and the cilantro leaves.
Fold each taco in deli paper or taco wrapper (to keep warm), and placed in the designated container and serve immediately.
Nutritionals:
Calories
217.9
Protein (gm)
19.73
Calories from Fat
29.71
Total Fat (gm)
2.55
Saturated Fat (gm)
1.01
Trans Fat (gm)
0.0
Cholesterol (mg)
1.0
Sodium (mg)
658.95
Carbohydrate (gm)
26.21
Dietary Fiber (gm)
3.18
Sugars (gm)
5.39
*Nutritionals values are subject to change.