Image Size and Best Practices for Enterprise Web
This guide provides image sizes and recommendations for the best-looking design on Enterprise Web.
Image size quick guide:
Happening and Event Featured Image - 750 x 421 pixels
Homepage Hero - 1440 x 520 pixels
Program Page Hero -‪ 2,560 x 590‬ pixels
Medium Rectangles Sidebar - 300 x 250 pixels
Leaderboard - 728 x 90 pixels
3 Bottom Square Ads - 180 x 150 pixels
For best results, follow the best practices on how to format images before uploading.
Image Sizes
If you upload huge images to your website, it will cause the page to load slowly. Large photos can result in users losing patience and abandoning your site. It can also result in Google down-ranking your site and leaving you out of search results. Multiple large images can affect site performance. Keep your overall page size in mind.
When uploading images to your site, follow these guidelines:
Save images in .jpg format
750 x 421 pixels, 72dpi
Max size 80KB
Aspect Ratio
Images must have a 16:9 aspect ratio most widescreen displaying environments. The image ratio means that images in events, promos, and facility pages reformat themselves to fit different sizes of screens (desktop, phones, tablets).
Keeping the 16:9 ratio will format and resize thumbnails generated automatically from the original version of an image. Standard image formatting simplifies workflow, speeds load-times and, adds consistency to the look and feel of Enterprise Websites.
The common resolution in the 16:9 ratio for Enterprise websites is 750 x 421 pixels.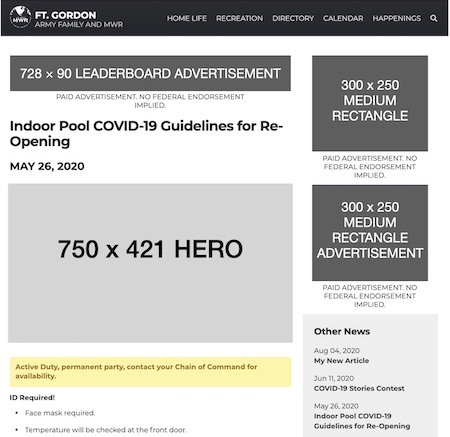 Troubleshooting
If you have any questions or run into any issues, reach out to the support team by selecting the question mark icon in the upper right in the edit bar.

Scroll to the bottom of the blue side menu, past the reference materials links, and select Open Support Ticket button to open a ticket. Someone will get back with you shortly.