<< Back to Enterprise Web User's Guide
Enterprise Web 2.0 Marketing Site Quick Start
This is an overview of the functionality on the new marketing site in Enterprise Web 2.0 It will cover
Available Page Types and their usage
Managing site-specific page attributes
Centralizing content
Managing mega menu content
Managing footer content
Note: This Quick Start guide assumes a general knowledge of content management with the concrete5 CMS - for a refresher on the basics of content editing with concrete5, visit the User's Guide on the Resource Center https://www.mwrresourcecenter.com/resources/marketing/enterprise-digital-platforms/enterprise-web-users-manual/basic-editing
Managing Header Content
The header content is maintained in 4 stacks:
Megamenu Home Life
Megamenu Home Life News
Megamenu Recreation
Megamenu Recreation News
Megamenu Home Life Mobile
Megamenu Recreation Mobile
There are two main mega menus - the mega menu under "Home Life" and the mega menu under "Recreation". They are identical in format, so the stack control structure is identical, just swapping out the names. Using Home Life as the example here, the stack "Megamenu Home Life" controls the navigation items on the left hand side, whereas the stack "Megamenu Home Life News" controls the content in the right hand side of the mega menu, with the image and the category / title groupings. The mobile stacks modify what appears in the mobile versions of the menus.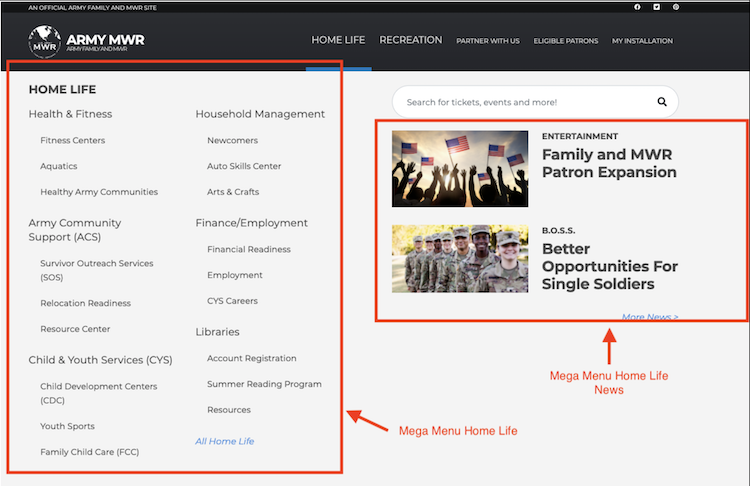 Managing Footer Content
The footer content is maintained in 3 stacks, with just content blocks containing links in each stack:
Footer Links Left
Footer Links Right
Footer Links Bottom

Page Types
Overview
There are four page types on the Enterprise Web 2.0 Marketing Site.
Generally speaking, the General page type is a wildcard page type that can be located anywhere in the site tree. Otherwise, the hierarchy of page types is:
Program Category > Program > Program Content
The only exception is Program pages do not always have to be published beneath a Program Category page - only when it makes sense. But Program Content pages do need to be published beneath Program pages.
The available page types are described below:
General page type
Allowed templates: HQ General or HQ Right Sidebar
Use:
This page type is a general page type for things like legal pages or any page that needs to have full width (or a right sidebar) but doesn't really fit into any sort of hierarchy.
Program Category page type
Allowed templates: HQ Program Category
Use:
This page is meant to house program categories, such as ACS or CYS - beneath it would be:
Program page types (must be beneath a program category page)
Program Content page types (which must live under program pages).
Note that this page type will typically have a UPI (Universal Program Identifier) page attribute applied to it, which will allow it to have a relationship with Program Category pages on the individual garrison sites.
Program page type
Allowed templates: HQ Program
Use:
These, along with Program Category pages, are the pages that will use the UPI (Universal Program Identifier) attributes to link out to program pages in the garrisons. These are the main pages for large programs that exist at all garrisons. Content from this page will filter down to garrisons via functionally tied into the use of UPI's.
Program Content page type
Allowed templates: HQ Program Content
Must be published beneath: Program page type
Use:
The Program Content page type is meant to be used as a supplementary information page for a specific program page, ergo it must be published beneath a program page. These pages can also be designated to trickle down to garrisons to show up in the garrison-specific instance of the program's side navigation.

Troubleshooting
If you have any questions or run into any issues, reach out to the support team by selecting the question mark icon in the upper right in the edit bar on Enterprise Web.

Scroll to the bottom of the blue side menu, past the reference materials links, and select Open Support Ticket button to open a ticket. Someone will get back with you shortly.