How to Add a Containter
On your device, login to Enterprise Web 2.0
Find a page in the sitemap to add Containers
Click the pencil icon to enter edit mode
Click the plus to add a Container

Then hover the arrow to pop out the selection box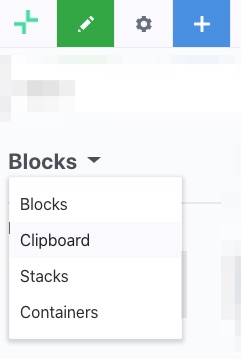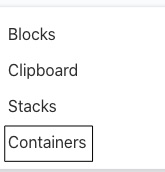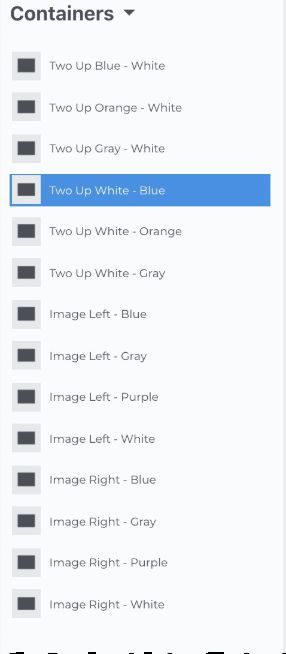 Drag the Container to the content area

Add a Summary Card Block
Summary cards provide a flexible and extensible content container with multiple layouts and design options.
A Summary Card Block is a flexible and extensible block. It includes options to display a wide variety of content, background colors, perfectly sized thumbnails. It is meant to be added to containers.
On your device, login to Enterprise Web 2.0
Find a page in the sitemap to add a Summary Card Block
Click the pencil icon to enter edit mode
Click the + to add a Summary Card Block
Search for Summary Card Block and Drag the block to container area - this will make the settings appear so you can configure the Summary Card.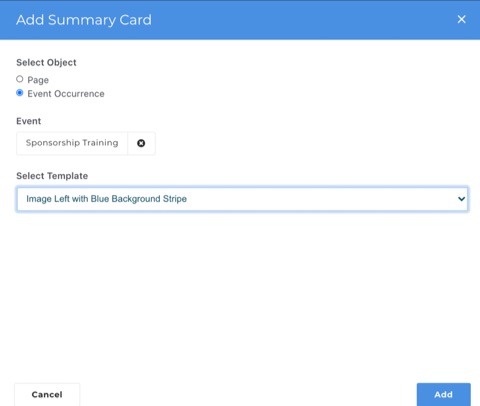 6. Select Object: Here are the different types of content you have available and what will populate in the Container
Page - Choose a page out of the sitemap and have it display a summary​​​
Event Occurrence - Choose an upcoming event and have it display
7. Event - Choose an Event from the calendar.
8. Select Template - This allows you to choose a style for the container.
9. Click add and select either Publish or Save to keep it as a draft for editing later.
Add a block to a Container
You can add blocks to Containers is the same process as adding a block to a page, but the design and layout is preset
Click the "Add Block" ("+") button in the upper left in the toolbar
Choose the type of block you want and click it
Drag the block to the Container area where you want it to go. Available areas will highlight green.
Once you release, the block form will pop up to fill out, or in the case of the Content block.
Fill out the block form or enter your content in the content editor, and then hit save.
Your content will appear on the page, and the page will be ready to publish.
Results:
Creating Containers for your site will help you promote important things on base and allow you to liven up and highlight any content you need.