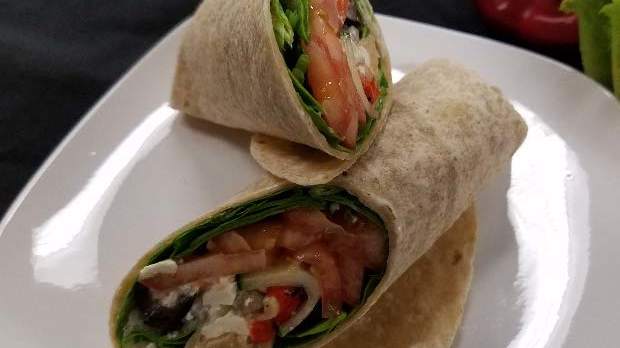 Recipe: Wrap, Veggie (HAC)
Yield: 1 Portion
| Ingredients: | Qty/UOM: |
| --- | --- |
| Tortilla, Whole Grain 10in, (Mission USF#9411180) | 1 ea. |
| Spinach, Flat Leaf | 1 oz. |
| Tomato, 5x6 Sliced ¼ in (4 slices) | 4 oz. |
| Cucumber, Fresh Sliced (4 slices) | 1.5 oz. |
| Pepper, Red Bell Roasted, Peeled, Seeded, Sliced in Strips | .5 oz. |
| Mushroom, Sliced, #10can | 1 oz. |
| Onion, Red Sliced 1/8 in | .25 oz. |
| Olive, Black Sliced | .25 oz. |
| Cheese, Feta Crumbled | .5 oz. |
| Tzatziki Sauce, Low Fat (Recipe) (2 T) | 1 oz. |
| Pickle, Dill Spear (1 ea.) | 2 oz. |
Instructions:
Quickly warm tortilla.
Assemble wrap in the following order: tortilla, spinach, tomato, cucumber, red pepper, mushroom, onion, olives, feta cheese, and tzatziki sauce.
Tightly roll up and wrap in deli paper (if desired).
Cut in half at a 45 degree angle.
Put in Grab N Go container or Specified container with pickle and serve.
Nutritionals:
Calories
291.75
Protein (gm)
11.41
Calories from Fat
78.66
Total Fat (gm)
8.63
Saturated Fat (gm)
3.55
Trans Fat (gm)
0.0
Cholesterol (mg)
10.75
Sodium (mg)
1720.66
Carbohydrate (gm)
44.75
Dietary Fiber (gm)
7.01
Sugars (gm)
8.64
*Nutritionals values are subject to change.