Recipe: Tuna Salad Batch (Light)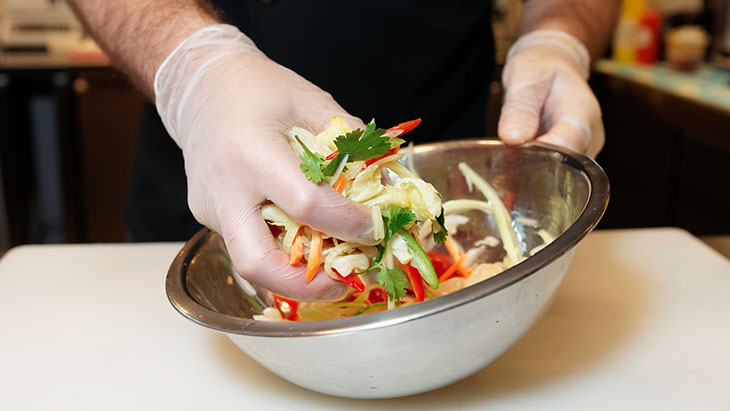 Recipe: Tuna Salad Batch (Light) (HAC)
Yield: 24 – 4 oz. Portions
| Ingredients: | Qty/UOM: |
| --- | --- |
| Tuna, Chunk Light in Water, Drained | 66 oz. |
| Celery, Fresh Diced 1/4in (1 ½ cups) | 5.5 oz. |
| Onion, Red Diced 1/4in (1 cup) | 4.5 oz. |
| Salt, Kosher (1/2 tsp) | .10 oz. |
| Pepper, Black Ground (1 tsp) | .12 oz. |
| Mayonnaise, Light (2 cups) | 16 fl. oz. |
Instructions:
Open can and drain well. Place drained tuna in a stainless steel bowl. Flake tuna with a fork.
Fine dice celery and red onion, add to tuna.
Season with salt and pepper. Add mayo.
Mix well. Refrigerate until needed. Store at 40F or cooler.
Nutritionals (Per 4oz. Portion):
Calories
139.67
Protein (gm)
19.70
Calories from Fat
45.98
Total Fat (gm)
5.26
Saturated Fat (gm)
0.66
Trans Fat (gm)
0.0
Cholesterol (mg)
62.21
Sodium (mg)
421.96
Carbohydrate (gm)
3.45
Dietary Fiber (gm)
.21
Sugars (gm)
.35
*Nutritionals values are subject to change.