Recipe: Tacos, Street Fish (Jerk) w/ Pickled Red Onions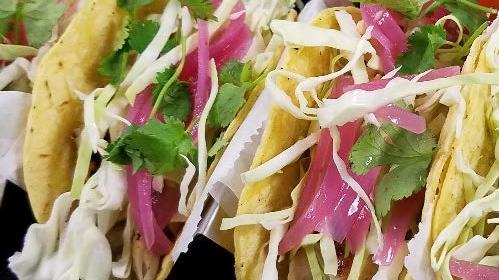 Recipe: Tacos, Street Fish (Jerk) w/ Pickled Red Onions (HAC)
Yield: 1 Portion (2 Tacos)
| Ingredients: | Qty/UOM: |
| --- | --- |
| Tortilla, Corn, 6in | 2 ea. |
| Tilapia Filet, RAW, IQF, Boneless-Skinless 3.5 oz. Fillet | 1 Fillet |
| Seasoning, Jerk, Jamaican | .10oz. |
| Salsa, Green Tomatillo | 2 oz. |
| Cabbage, Green, Shredded | 1 oz. |
| Pickled Red Onions- see recipe | 1 oz. |
| Cilantro, fresh, whole leaves (about 4-6 leaves) | .15 oz. |
Instructions:
Lightly season the fish on both sides. DO NOT OVER-SEASON. Cook the fish on flat top grill, until an internal temperature of 165F° is reached for 30 seconds.
Quickly pre-heat the corn tortilla on grill, or microwave (10 seconds).
Build the tacos in the following order on the two tortillas, evenly splitting the ingredients for both tacos: fish, salsa, cabbage, pickled onions and the cilantro leaves.
Fold each taco in deli paper or taco wrapper, and place in the specified container.
Nutritionals:
Calories
203.11
Protein (gm)
18.53
Calories from Fat
17.23
Total Fat (gm)
1.3
Saturated Fat (gm)
0.76
Trans Fat (gm)
0.0
Cholesterol (mg)
41.4
Sodium (mg)
849.78
Carbohydrate (gm)
25.21
Dietary Fiber (gm)
3.18
Sugars (gm)
5.39
*Nutritionals values are subject to change.