Recipe: Side, Fruit Cup 9 oz. (Melons)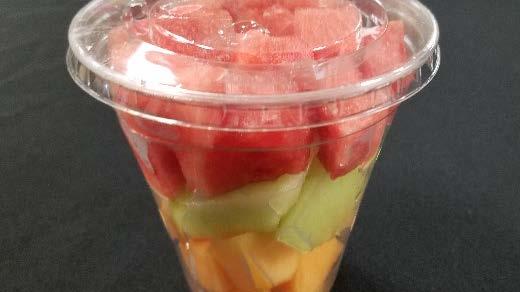 Recipe: Side, Fruit Cup 9 oz. (Melons) (HAC)
Yield: 1 Portion
| Ingredients: | Qty/UOM: |
| --- | --- |
| Cantaloupe, Peeled, Seeded, Medium Diced | 3 oz. |
| Honeydew, Peeled, Seeded, Medium Diced | 3 oz. |
| Watermelon, Seedless, Peeled, Medium Diced | 3 oz. |
Instructions:
Build the fruit cup in following order into 12 oz cup; cantaloupe, honeydew and watermelon.
Place the dome lid over the cup and seal it.
Chill immediately and place it in the Grab N Go cooler.
Nutritionals:
Calories
87.76
Protein (gm)
1.56
Calories from Fat
0.0
Total Fat (gm)
0.0
Saturated Fat (gm)
0.0
Trans Fat (gm)
0.0
Cholesterol (mg)
0.0
Sodium (mg)
31.73
Carbohydrate (gm)
21.62
Dietary Fiber (gm)
1.56
Sugars (gm)
20.03
*Nutritionals values are subject to change.