Recipe: Sandwich, Turkey Arugula Panini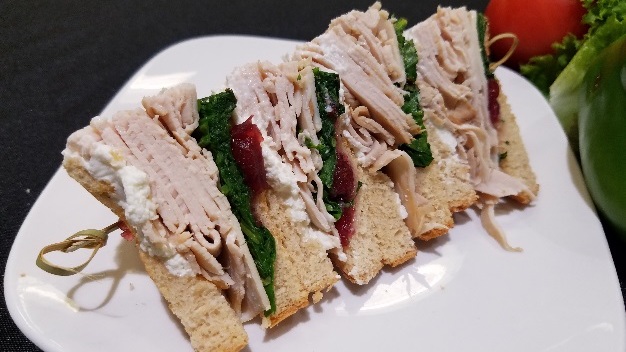 Recipe: Sandwich, Turkey Arugula Panini (HAC)
Yield: 1 Portion
| Ingredients: | Qty. /UOM: |
| --- | --- |
| Bread, WHT Wheat WHL Grain 12" loaf | 2 slices |
| Cranberry Sauce, Whole Berries | 1 oz. |
| Arugula, Baby Fresh GRN | 4 oz. |
| Turkey, BRST Smoked Sliced | 4 oz. |
| Cheese, CHEVR CRBL (Goat Cheese) | 1 oz. |
| SALT, KO GRND CORSE BOX | .08 oz. (0.13 tsp.) |
| SPICE, PPR BLK .1 GR SS FLAT | .08 oz. (0.13 tsp) |
Instructions:
Griddled cooking: Spread the cranberry sauce in one side of each slice, and place the slices on the grill with the sauce side up. Add the cheese to one of the slices. Place arugula on the grill and wilted just a litter bit and then placed on top the other sliced of bread. Add the turkey to the grill and warmer up, and added over the cheese. Sprinkled the salt and pepper over the arugula, and topped with the other bread forming the sandwich. Make it golden brown. Cut and serve.
Panini Grill cooking: Spread the cranberry sauce in one side of each slice. Then add the rest of the ingredients in the following order; slice of bread, arugula, salt and pepper, turkey, cheese and the other slice of bread. Cook sandwich in a Panini, until bread is fully cooked.
TurboChef oven cooking: Place parchment paper in the Teflon Basket. Place in bottom bread, sauce, arugula, salt, black pepper, turkey and cheese and the top bread on the side, open face sandwich. Cook the open face sandwich in the TurboChef oven, (Tornado or Encore), for 40 seconds, until reaches internal temperature of 165F for 15 seconds. Place the top bread and secure with 2 toothpicks. Cut and serve.
Nutritionals:
Calories
474.26
Protein (gm)
34.73
Calories from Fat
91.12
Total Fat (gm)
10.11
Saturated Fat (gm)
4.05
Trans Fat (gm)
0.00
Cholesterol (mg)
75.93
Sodium (mg)
2522.28
Carbohydrate (gm)
65.1
Dietary Fiber (gm)
4.35
Sugars (gm)
30.41
*Nutritionals values are subject to change.