Recipe: Sandwich, Tuna Pita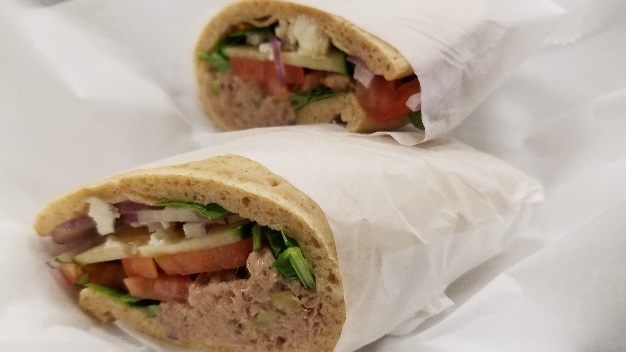 Recipe: Sandwich, Tuna Pita (HAC)
Yield: 1 Portion
| Ingredients: | Qty/UOM: |
| --- | --- |
| Bread, Pita Whole Wheat Greek Style 7" (USF#2587186) | 1 ea. |
| Salad, Tuna, (Light) Batch- see recipe | 4 oz. |
| Arugula, Fresh | 1 oz. |
| Tomato, 5x6 Sliced ¼ in (2 slices) | 2 oz. |
| Cucumbers, Slices, cut in half 2-3 slices | 1 oz. |
| Onion, Red, slice thin rings | .25 oz. |
| Dressing, Italian Fat Free | .5 oz. |
| Feta Cheese, Crumbled | .5 oz. |
Instructions:
Assembling the sandwich in the following order: Pita bread, tuna salad, arugula, tomato, onions, cucumbers, dressing, and cheese. Fold the bread over, Wrap in deli paper to hold it together. And serve.
Put in Grab "N" Go container or #500 boat with deli paper.
Nutritionals:
Calories
465.66
Protein (gm)
30.01
Calories from Fat
136.34
Total Fat (gm)
15.3
Saturated Fat (gm)
3.68
Trans Fat (gm)
0.0
Cholesterol (mg)
72.33
Sodium (mg)
1378.93
Carbohydrate (gm)
52.35
Dietary Fiber (gm)
4.88
Sugars (gm)
6.48
*Nutritionals values are subject to change.