Recipe: Sandwich, Swiss Tuna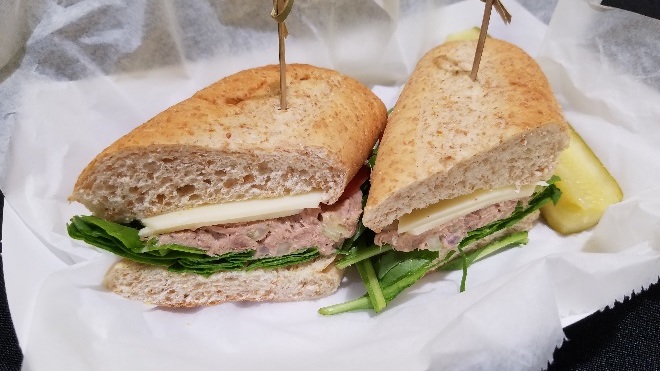 Recipe: Sandwich, Swiss Tuna (HAC)
Yield: 1 Portion
| Ingredients: | Qty/UOM: |
| --- | --- |
| Roll, Wheat Honey 3x7in. (Cellones Bakery USF#2554707) | 1 ea. |
| Tuna Salad, Light (See Recipe) | 4 oz. |
| Spinach, Flat Leaf | .5 oz. |
| Tomato, 5x6 Sliced ¼ in (2 slices) | 2 oz. |
| Cheese, Swiss Sliced .75 oz. (cut in half) | 1 ea. |
| Pickle, Dill Spear (1 ea.) | 2 oz. |
Instructions:
Assemble sandwich in following order; bottom bread, spinach, tuna salad, tomato and cheese.
Place the top bread over, secure with 2 toothpicks (if desired).
Cut in half at a 45 degree angle.
Put in Grab N Go container or specified container with pickle.
Nutritionals:
Calories
498.51
Protein (gm)
35.76
Calories from Fat
97.17
Total Fat (gm)
12.52
Saturated Fat (gm)
4.81
Trans Fat (gm)
0.0
Cholesterol (mg)
82.46
Sodium (mg)
1437.49
Carbohydrate (gm)
63.62
Dietary Fiber (gm)
3.74
Sugars (gm)
7.92
*Nutritionals values are subject to change.