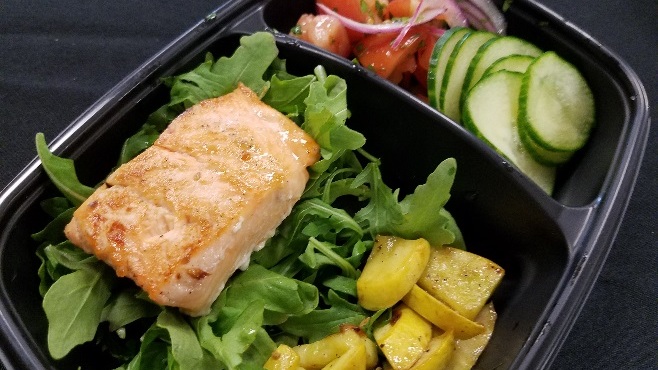 Recipe: Salmon Bento Box (HAC)
Yield: 1 Portion
| Ingredients: | Qty/UOM: |
| --- | --- |
| Salmon Filet 3oz, Grilled | 1 ea. |
| Asian Vinaigrette | .5 oz. |
| Salt, Kosher | .08 oz. |
| Pepper, Black Ground | .08 oz. |
| Yellow Squash, long way into wedges or strips, Grilled | 2 oz. |
| Italian Dressing Fat Free | .25 fl. oz. |
| Cucumbers Marinated- see recipe | 2 oz. |
| Tomatoes Cilantro Salad- see recipe | 3.25oz. |
| Arugula, Fresh | 1 oz. |
Instructions:
HOT: Season the salmon with the Asian vinaigrette, and lightly with the half of salt and pepper by rubbing over the entire salmon filet, covering all sides. Let marinade for at least 2 hours. Grill until cook thoroughly, reaching an internal temperature of 145F° for 30 seconds.
In a small mixing bowl, combine the yellow squash with Italian dressing, lightly with the rest of salt and pepper. Grill the squash while ensuring squash remains al dente- Do Not Overcook!
In the Bento Box container with 4 compartments, pre-arrange the following in each space: the cucumbers marinated in #1 space, the Tomato Cilantro salad in #2 space, the grilled squash in the #3 space and the arugula in the large space with the grilled salmon place atop the arugula.
Serve immediately.
COLD: Cook the Salmon and the yellow squash to the correct temperature following the cooking instructions, then chill them to under 40'F. Assemble the box following the instruction in #3. Place in the Grab N Go display.
Nutritionals:
Calories
294.10
Protein (gm)
18.63
Calories from Fat
107.63
Total Fat (gm)
11.15
Saturated Fat (gm)
2.0
Trans Fat (gm)
0.0
Cholesterol (mg)
50.03
Sodium (mg)
1769.87
Carbohydrate (gm)
27.52
Dietary Fiber (gm)
3.48
Sugars (gm)
8.76
*Nutritionals values are subject to change.