Recipe: Salad, Veggies "Banh Mi" Topping-Batch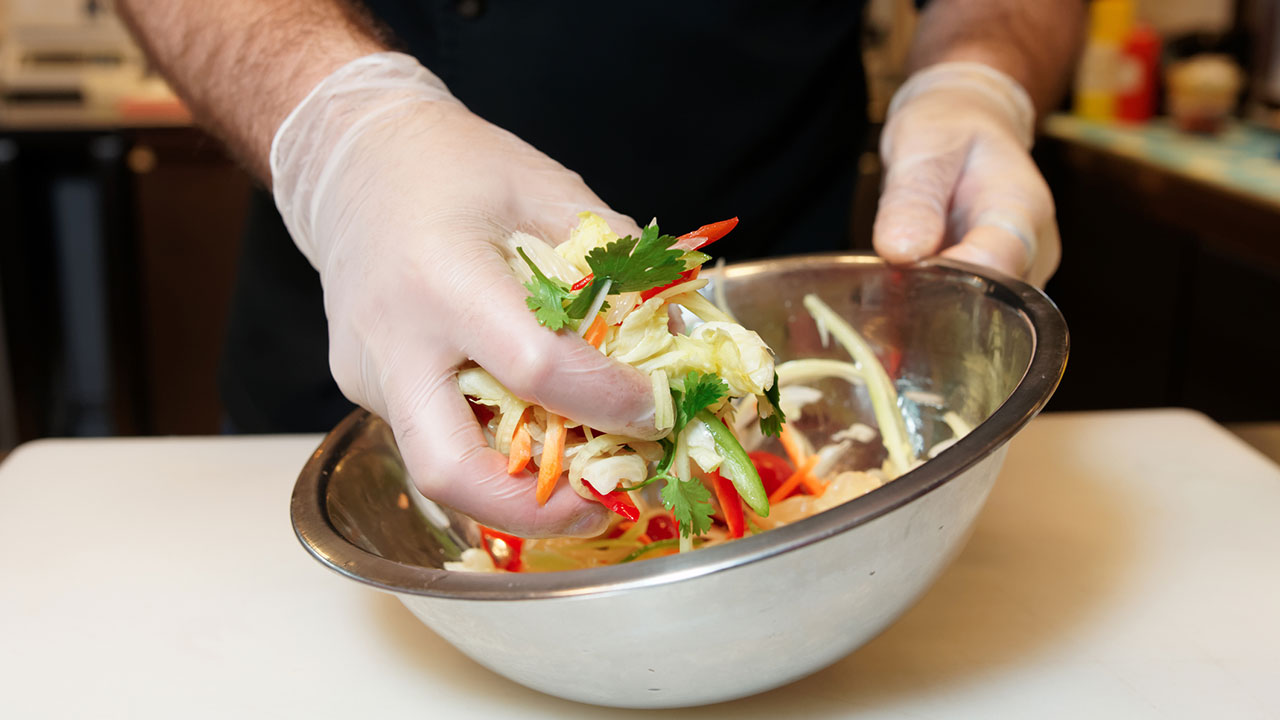 Recipe: Salad, Veggies "Banh Mi" Topping-Batch (HAC)
Yield: 12- 4oz. portions
| Ingredients: | Qty. /UOM: |
| --- | --- |
| Lime juice, FRESH, from one Lime (1.5 cups) | 12 fl. oz. |
| Five-spice powder | 2 oz. |
| Minced Garlic | 3 oz. |
| Kosher Salt (1 tsp) | .20 oz. |
| Rice Wine Vinegar (3 cups) | 24 fl. oz. |
| Sugar, White Granulated | 2 oz. |
| Carrot, Shredded 1/16in Fresh | 2.5 lbs. |
| Onion Red (thinly sliced) | 6 oz. |
| Jalapeno fresh, seeded (cut finely thin slices 1in long) | 3 oz. |
Instructions:
In a mixing bowl add the rice wine vinegar, lime juice, garlic, salt, sugar, Five-Spice seasoning. Then stirring to dissolve the salt and sugar.
Add the carrot, onions and jalapenos to the liquid mix, and tossed well to coat. Chill until you are ready to use on the Bahn Mi Vietnamese style sandwich.
Nutritionals (Per Portion (4 oz.) :
Calories
78.91
Protein (gm)
1.43
Calories from Fat
0.14
Total Fat (gm)
0.01
Saturated Fat (gm)
0.01
Trans Fat (gm)
0.0
Cholesterol (mg)
0.0
Sodium (mg)
293.4
Carbohydrate (gm)
19.94
Dietary Fiber (gm)
3.31
Sugars (gm)
11.19
*Nutritionals values are subject to change.