Recipe: Salad, Tofu Eggy Chef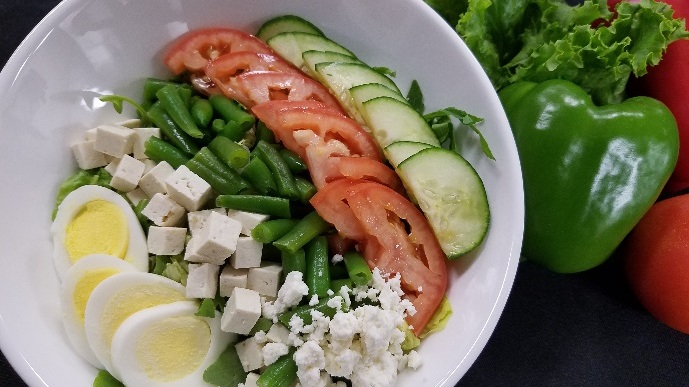 Recipe: Salad, Tofu Eggy Chef (HAC)
Yield: 1 Portion
| Ingredients: | Qty/UOM: |
| --- | --- |
| Romaine, Lettuce, chopped | 2 oz. |
| Arugula, Fresh | 1 oz. |
| Egg, Hardboiled, sliced | .5 each |
| Tofu, Baked or smoked, diced 3/4in. | 1.5 oz. |
| Green Beans, Italian Fancy cut CKD, FZN IQF-and thawed | 2 oz. |
| Cucumber, Sliced, and cut in half (2 ounces) | 4 Slices |
| Feta Cheese, Crumbled | .33 oz. |
| Tomato, 5x6 Sliced ¼ in (4 ounces), cut in half | 4 Slices |
Instructions:
In a medium mixing bowl, combine the romaine and arugula lettuces and place into a 7x7" Grab-n-Go container.
Slightly overlapping one another, place the egg slices over the left side from bottom to top. In the same manner as the eggs, place the following ingredients from top to bottom from left to right of the eggs: tofu, green beans, cucumber (overlapping halve slices), cheese and the tomato (overlapping halve slices).
Serve with Fat Free Italian Vinaigrette or Lite Ranch on the side.
Nutritionals:
Calories
180.36
Protein (gm)
10.90
Calories from Fat
56.34
Total Fat (gm)
5.63
Saturated Fat (gm)
2.08
Trans Fat (gm)
0.0
Cholesterol (mg)
105.9
Sodium (mg)
594.38
Carbohydrate (gm)
21.57
Dietary Fiber (gm)
5.79
Sugars (gm)
12.22
*Nutritionals values are subject to change.