Recipe: Salad, Tangy Veggie Lovers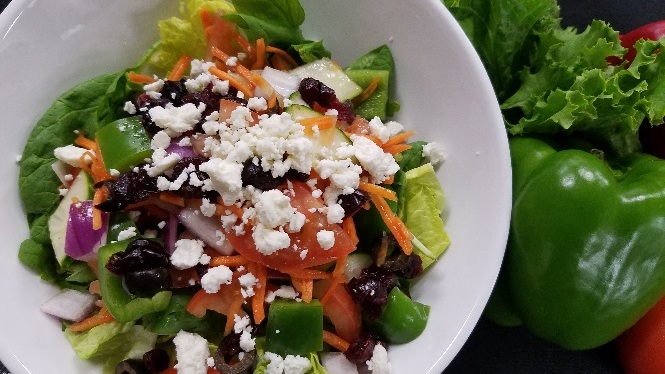 Recipe: Salad, Tangy Veggie Lovers (HAC)
Yield: 1 Portion
| Ingredients: | Qty/UOM: |
| --- | --- |
| Romaine, Chopped | 1 oz. |
| Spinach, Flat Leaf | 2.5 oz. |
| Carrot, Shredded | 1 oz. |
| Cucumber, Fresh Sliced, (4 slices) cut into quarters | 1.5 oz. |
| Tomato, 5x6 Sliced ¼ in, (4 slices) cut into quarters | 4 oz. |
| Olive, Black Sliced | .25 oz. |
| Pepper, Green Bell, Diced 3/4in | 1 oz. |
| Onion, Red, Diced 3/4in | .5 oz. |
| Cheese, Feta Crumbled | .5 oz. |
| Cranberry, Dried Sweetened | .5 oz. |
| Croutons, PC-SS | 2 packs |
| Vinegar, Rice Wine | 1 fl. oz. |
| Dressing, Italian Fat Free PC (1.5 fl. oz.) | 1 each |
Instructions:
Mix the romaine and Spinach together, and place the mix into 7x7 container or specified container.
In a mixing bowl, toss Carrots, cucumbers, tomatoes, olives, peppers, cranberries, and red onions in rice vinegar.
Place ingredients on top of spinach. Then add the Feta cheese over the top.
Serve with Italian Vinaigrette Fat Free dressing and croutons.
Nutritionals:
Calories
247.02
Protein (gm)
8.4
Calories from Fat
62.41
Total Fat (gm)
6.68
Saturated Fat (gm)
2.08
Trans Fat (gm)
0.0
Cholesterol (mg)
10.12
Sodium (mg)
1255.77
Carbohydrate (gm)
43.17
Dietary Fiber (gm)
6.93
Sugars (gm)
20.07
*Nutritionals values are subject to change.