Recipe: Salad, Feta Turkey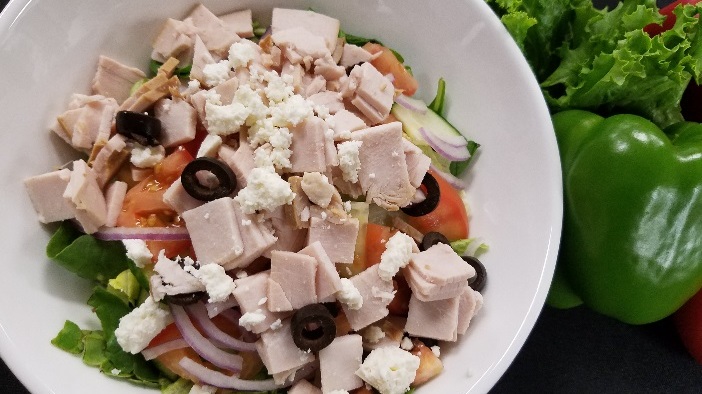 Recipe: Salad, Feta Turkey (HAC)
Yield: 1 Portion
| Ingredients: | Qty/UOM: |
| --- | --- |
| Spinach, Flat Leaf | 2.5 oz. |
| Romaine, Chopped | 1 oz. |
| Tomato, 5x6 Sliced ¼ in, (4 slices) cut in quarters | 4 oz. |
| Cucumber, Fresh Sliced (4 slices) | 1.5 oz. |
| Onion, Red, thin slices rings, cut into quarters | .5 oz. |
| Olive, Black Sliced | .25 oz. |
| Turkey Breast Smoked, Sliced, Diced | 3.5 oz. |
| Cheese, Feta Crumbled | .5 oz. |
| Croutons, Cubes, Pack-PC | .5 oz. (2 packages) |
| Dressing, Italian Fat Free SS Pouch | 1 ea. |
Instructions:
Place Spinach 7x7 container or specified container.
Spread ingredients out in order: cucumbers, tomatoes, onions, turkey, olives, and feta.
Serve with flatbread and choice of dressing.
Nutritionals:
Calories
268.90
Protein (gm)
27.37
Calories from Fat
83.23
Total Fat (gm)
8.32
Saturated Fat (gm)
2.08
Trans Fat (gm)
0.0
Cholesterol (mg)
54.42
Sodium (mg)
2052.79
Carbohydrate (gm)
26.99
Dietary Fiber (gm)
5.17
Sugars (gm)
8.77
*Nutritionals values are subject to change.