Recipe: Salad, Basil Tomato-Cucumber Turkey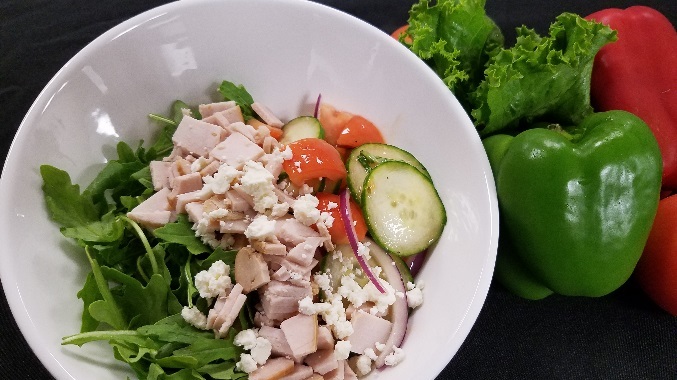 Recipe: Salad, Basil Tomato-Cucumber Turkey (HAC)
Yield: 1 Portion
| Ingredients: | Qty/UOM: |
| --- | --- |
| Arugula, fresh | 1.5 oz. |
| Tomatoes, 5x6, diced 1 inch cubes | 4 oz. |
| Cucumber, Slices, thin slices | 3 oz. |
| Onion, Red thin slices, julienne | .25 oz. |
| Basil, Fresh chopped (2 leaves) | .25 oz. |
| Turkey, Smoked, diced ½ inch | 3 oz. |
| Feta Cheese, Crumble | .25 oz. |
| Italian Vinaigrette, Fat Free | 2 oz. |
Instructions:
In a small mixing bowl combine the tomato, cucumber, red onion and basil with the Italian vinaigrette. Mix well.
Arrange the following ingredients a 24 oz bowl in the following manner: On the left-half side of bowl place the arugula, and in the right-half side place the tomato cucumber salad. Place the turkey over the arugula on the left side, and add the feta cheese over the turkey.
Serve immediately. NOTE: These salads can also be pre-made for sale in your display cooler.
Nutritionals:
Calories
198.57
Protein (gm)
15.22
Calories from Fat
66.18
Total Fat (gm)
7.52
Saturated Fat (gm)
2.56
Trans Fat (gm)
0.0
Cholesterol (mg)
58.81
Sodium (mg)
1769.78
Carbohydrate (gm)
13.61
Dietary Fiber (gm)
2.25
Sugars (gm)
8.32
*Nutritionals values are subject to change.