Recipe: Pizza Flatbread 7in, Malibu Chicken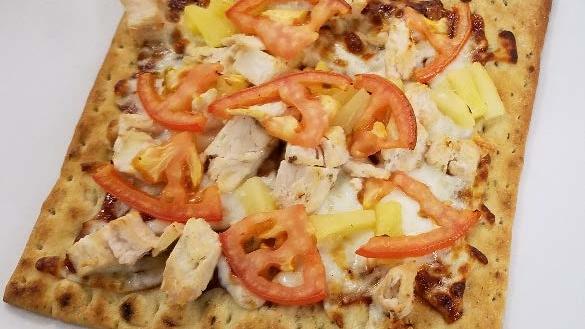 Recipe: Pizza Flatbread 7in, Malibu Chicken (HAC)
Yield: 1 Portion
| Ingredients: | Qty/UOM: |
| --- | --- |
| Bread, Flat Herb 6.75 in x 6.75in | 1 ea. |
| Sauce, BBQ (Sweet Baby Rays) | 1 fl. oz. |
| Cheese, Mozzarella, SHRED (Low moist -Part Skim) (USF#7332372) | 1 oz. |
| Chicken Meat, Diced (Low Sodium), (USF#3680942) | 2 oz. |
| Pineapple, Tidbit in Juice, Strained | 1 oz. |
| Tomato, 5x6 Sliced ¼ in (2 slices, quartered) | 2 oz. |
| Onion, Red, Slices cut in quarters | .25 oz. |
Instructions:
Place the thawed flatbread on parchment paper; add the sauce, and coating evenly up to but not on the edge.
Spread the cheese evenly covering all the sauce.
Place the chicken, pineapple, tomatoes and onions on the cheese.
Bake in the TurboChef (Tornado) or oven for about 1 ½ minutes or until bread is crisp and cheese is melted.
Cut into 4 even squares and serve in specified container.
Nutritionals:
Calories
508.49
Protein (gm)
26.89
Calories from Fat
143.91
Total Fat (gm)
14.85
Saturated Fat (gm)
5.54
Trans Fat (gm)
0.0
Cholesterol (mg)
18.81
Sodium (mg)
994.87
Carbohydrate (gm)
69.95
Dietary Fiber (gm)
2.7
Sugars (gm)
23.36
*Nutritionals values are subject to change.