Recipe: Burger, Greek Turkey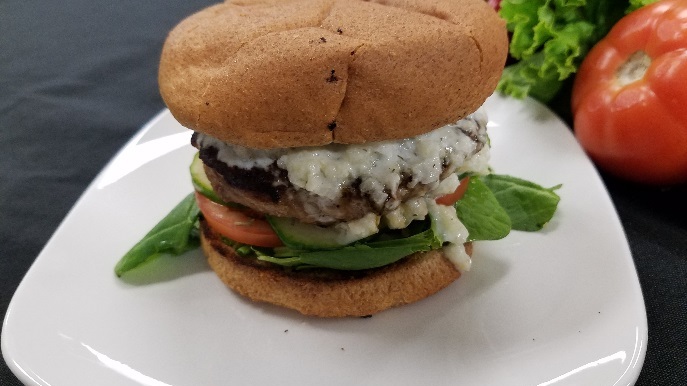 Recipe: Burger, Greek Turkey (HAC)
Yield: 1 Portion
| Ingredients: | Qty. /UOM: |
| --- | --- |
| Roll, Whole Wheat 4" (2.1oz.) (European Bakers, USF#5779368) | 1 each |
| Turkey, PTY Burger Raw- 5.33oz (Chef's Line, USF#9775446) | 1 each |
| Spinach, Flat Leaf | 3 oz. |
| Cucumber, English Sliced (3-4 thin slices) | 3 oz. |
| Tomato, 5x6 Sliced ¼ in (2 slices) | 2 oz. |
| Spice, Oregano Leaf Dried | .08 oz. (.5 tsp.) |
| SALT, Kosher GRND CORSE | .08 oz. (0.13 tsp.) |
| SPICE, Pepper Black | .08 oz. (0.13 tsp) |
| Sauce, Tzatziki (Fat Free) - see recipe | 2 oz. |
Instructions:
Pre-heat grill to high heat.
Grill turkey burger patty over high-heat until cooked through, or until reaches internal temperature of 165F for 15 seconds, seasoned with the salt and pepper.
Assembled the burger in the following order; bottom bread, spinach leaves, sliced tomato, sliced cucumber, burger, oregano, Tzatziki sauce, and top bread. Secure with toothpicks and serve.
Nutritionals:
Calories
466.97
Protein (gm)
42.95
Calories from Fat
148.51
Total Fat (gm)
17.33
Saturated Fat (gm)
3.55
Trans Fat (gm)
0.00
Cholesterol (mg)
106.4
Sodium (mg)
2778.9
Carbohydrate (gm)
43.03
Dietary Fiber (gm)
8.4
Sugars (gm)
11.56
*Nutritionals values are subject to change.