Recipe: Bowl, Hawaiian Chicken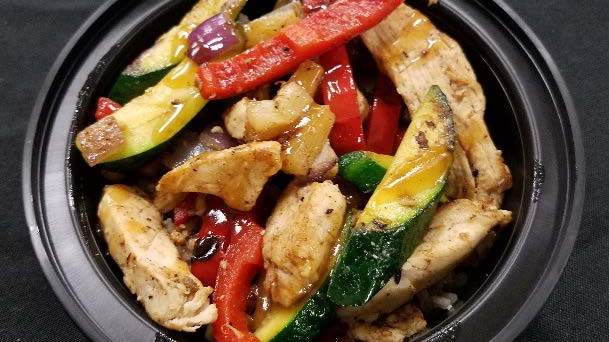 Recipe: Bowl, Hawaiian Chicken (HAC)
Yield: 1 Portion
| Ingredients: | Qty/UOM: |
| --- | --- |
| Brown Rice, Cooked | 2.5 oz. |
| Chicken Meat, Strips (Low Sodium), (USF#3680942) | 3 oz. |
| Asian Vinaigrette | .5 fl. oz. |
| Pineapple, Tidbits | 1 oz. |
| Zucchini, slices ¼ thick cut in bias, grilled | 1.5 oz. |
| Red Bell Pepper, Fresh, ¼ thick Julienne-strips, grilled | 1.5 oz. |
| Red Onion, 3/4in diced, grilled | 1 oz. |
| Oil, Olive | .25 fl. oz. |
| Salt, (1 pinch) | .12 oz. |
| Black Pepper, Ground (1 pinch) | .12 oz. |
Instructions:
Cook the rice in a rice cooker following the specific instructions for brown rice.
Place the olive oil onto a pre-heated grilled, and spread evenly in a circular motion. Place the chicken on one side of the oil. Wait 2-3 minutes to add the rest of the ingredients to include onions, pepper, zucchini, and pineapple (with the exception the Asian vinaigrette dressing) so the VEGGIES REMAIN AL DENTE and do not overcook. Grill until chicken is seared on both sides, then season all with salt and pepper.
Place the rice in the 24 oz. bowl. Place the pineapple and veggies next to the chicken over the rice. Drizzle 1/2 ounce of the vinaigrette over in zig zag motion.
Serve immediately.
Nutritionals:
Calories
508.95
Protein (gm)
24.67
Calories from Fat
114.45
Total Fat (gm)
13.48
Saturated Fat (gm)
2.24
Trans Fat (gm)
0.0
Cholesterol (mg)
1.0
Sodium (mg)
1891.99
Carbohydrate (gm)
75.19
Dietary Fiber (gm)
5.72
Sugars (gm)
10.65
*Nutritionals values are subject to change.