The Digital Analytics Program (DAP) offers a web analytics tool to support federal agencies. The program is a shared service provided by the Technology Transformation Services (TTS) at the U.S. General Services Administration (GSA). This documentation will cover:
What DAP is and its importance
Analytics training
Creating pdf performance report
Digital Analytics Program (DAP)
The Digital Analytics Program (DAP) helps agencies better understand the public's interaction with the federal digital space, and records over 2.5 billion pageviews on more than 5,000 federal government websites each month. Much of these data are available to the public at analytics.usa.gov.
The data comes from a unified Google Analytics account for U.S. federal government agencies known as the Digital Analytics Program. This program helps government agencies understand how people find, access, and use government services online. The program does not track individuals and anonymizes the IP addresses of visitors.
DAP is required: On November 8, 2016, the Office of Management and Budget (OMB) released a memorandum on Policies for Federal Agency Public Websites and Digital Services, which requires executive branch federal agencies to implement the DAP JavaScript code on all public facing federal websites.

DAP Analytics Training
DAP provides free training for their analytics platform. Training can be found at the following website: https://digital.gov/events/
Self Service Dashboards
Your data is beautiful. Use it. Here are custom dashboards for Installations. Save a snapshot of your report by downloading it as PDF. You can then share the file offline via email, print it, archive it on disk, or do anything else you can do with PDF files. Click here for your dashboard.
Download a report
View the report you want to download.
Apply any refinements available in the report, such as filter controls, date range controls, or data controls. Choose your date range.
Choose your installation url and hover over the pageviews and click ONLY

In the upper right, click Share, then click Download.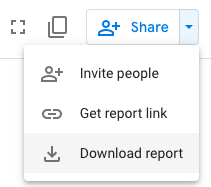 Configure the download options.
Click DOWNLOAD.
Results
Your PDF file will be saved to your downloads directory. This data provides a window into how people are interacting with Installation websites online. These measures shed light on how an installation performs, operationally, to its targets and goals.
Troubleshooting
If you need special assistance or have not received a prompt response after filing a Help desk ticket.